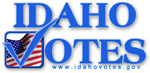 UPCOMING ELECTION  
When:   Tuesday, May 17, 2022
Offices:  Federal Candidates, State Candidates, County Candidates, Judges, Precinct Committeemen, Bonds, Levies
Candidacy Declaration Deadline:  March 11, 2022
Pre-election Registration: Voter pre-registration closes April 22, 2022 for the May 17, 2022 Primary Election.
Absentee Ballot Requests:  Registered voters may request an Absentee Ballot by completing, signing and submitting a request form by 5:00 p.m. on May 6, 2022. You may also request to receive an absentee ballot online at voteidaho.gov.  Please note Absentee Ballot requests must be renewed annually.
In-person Absentee:  Payette County Clerks Office will hold in-person absentee voting for registered voters from 9:00 a.m. April 25, 2022 through 5:00 p.m. May 13, 2022. 
Election Day:  Election Day voting for the Primary Election will be held on Tuesday, May 17, 2022. Polling locations are as follows:
Precinct          Polling Location
1                      First Methodist Church, 502 N 11th St., Payette 
2                      American Legion Hall, 301 S Iowa Ave., Payette
3                      Payette City Hall, 700 Center Ave., Payette
4                      Senior Citizen Hall, 137 N 8th St., Payette
5                      Corpus Christi Church, 900 NW 7th St., Fruitland
6                      Fruitland City Hall, 200 Whitley Dr., Fruitland
7                      Farmers Mutual Conference Center, 303 SW 3rd St., Fruitland
8                      Westside Assembly of God Church, 4025 Hwy 30, New Plymouth
9 & 10            New Plymouth School District, 222 N Plymouth Ave., New Plymouth
 County Candidates for May 2022 Primary:
   County Commissioner
          Dist. 2     Jennifer Riebe (R)          
          Dist. 3     Reece Hrizuk (R)
   County Clerk
          Lindsey Bratcher (R)
   County Treasurer
          Joan L. Howell (R)                       Dakota Menke (R)
   County Assessor
          Edie Aldridge (R)                         Sandy Clason (R)
   County Coroner
          Keith Schuller (R)
   County Prosecutor
          Mike Duke (R)
 Precinct Committeemen
Precinct 2:  Howard E. Rynearson (R)
Precinct 3:  Mel Lingel (R)
Precinct 4:  Donna D. Peterson (R)
Precinct 5:  Patti S. Nitz (R)
Precinct 6:  Jacob Rynearson (R)          Larry L Grant (D)
Precinct 7:  Joe Maxwell (R)
Precinct 8:  Michael Dolton (R)             Brandon Shippy (R)
Precinct 9:  Joan L. Howell (R)
Precinct 10: Joshua Davis (R)