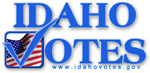 Payette Joint School District Supplemental Levy Election 
Precinct          Polling Locations
1                      First Methodist Church, 502 N 11th St., Payette 
2                      American Legion Hall, 301 S Iowa Ave., Payette
3                      Payette City Hall, 700 Center Ave., Payette
4                      Senior Citizen Hall, 137 N 8th St., Payette
6                      MAIL BALLOT ONLY - only electors in the district area
10                    MAIL BALLOT ONLY - only electors in the district area
Absentee ballot request forms must be received by the Payette County Clerk's Office no later than 5:00 p.m. Friday, March 3, 2023. You can receive an Absentee Ballot Request Form at the Payette County Clerk's Office, or by phoning 208-642-6000. 
For those voters in Precincts 1 - 4 interested in in-person absentee, voting will begin Monday, February 27, 2023.
For MAIL BALLOT ONLY Precincts, your ballot will be sent to you without request on Tuesday, February 28, 2023. For this election, this will be the only method for you to vote in this election.